WHY THE PRIMARY OR BABY TEETH NEEDS TO BE SAVED?
Pediatric dentistry is a unique and specialized field of dental work where the dental team provides the care needed for children. Dr. Sima F. Chegini of Fairlawn, Ohio, is a dedicated provider in the community who offers a wide range of pediatric services to new and returning patients. In addition to routine treatments such as dental cleanings and evaluations, she also provides restorative dentistry for children. Restoring the baby teeth is important, especially due to decay. With her help, children who visit Arsmiles Family & Cosmetic Dentistry can restore their smile's health and esthetics with reliable, quality dental restorations, including fillings, crowns, and composite resin bonding.
What is restorative pediatric dentistry?
Dr. Chegini of Arsmiles Family & Cosmetic Dentistry describes restorative dentistry for children as the diligent process of restoring the dentition after the right diagnosis has been established to prevent and treat common dental problems and issues. She does this by reconstructing damaged teeth caused by decay, infection, or trauma. It's crucial to save primary or baby teeth as long as the permanent succedaneous teeth are not ready to erupt. A premature loss of a baby tooth can make the back tooth shift forward and as a result block the eruption of the permanent tooth that is still not ready to erupt. Therefore saving the baby teeth is crucial to make sure that the child will have the right space available to have all the permanent teeth erupt in a timely manner and ultimately enjoy a complete set of healthy permanent dentition with a great esthetics and functionality for life.
Why might my child need restorative dentistry?
There are several reasons why your child might need restorative procedures to rehabilitate and refresh the smile. The most common cause is tooth decay. When a child has a cavity, it means that the tooth structure is damaged by bacteria in the form of plaque, sometimes it's also referred to as "dental caries." This decay can cause pain, sensitivity, and eventually a possible infection if left untreated.
"

~ James G
★★★★★
Thank goodness I found this dentist and her team for some much needed dental work. They're doing a great job restoring my neglected teeth. Comfortable office. Knowledgeable and friendly staff. Would recommend to anyone and everyone.
Other reasons for needing restorative dentistry include:
Broken teeth from an accident or injury
Missing teeth due to congenital defects or trauma
Teeth that are poorly positioned or malformed
Why restorative dentistry?
Restorative pediatric dentistry aims to save both primary and permanent teeth by restoring your child's dentition which provides a beautiful but also healthy smile. That may include placing tooth-colored fillings, dental bondings, pulpotomies and crowns. If a primary tooth is lost prematurely, to keep the space available until the succedaneous permanent tooth is ready to erupt, a space maintainer will be fabricated by the dental laboratory and will be cemented in the mouth to preserve the space till the permanent tooth is ready to come out.
During an evaluation, Dr. Sima F. Chegini will examine your child to determine if they could benefit from pediatric restorative dentistry with our team.
How do I learn more?
Restoring your child's smile is vital for appearance, function, and overall oral health. Connect with Arsmiles Family & Cosmetic Dentistry today by calling (330) 593-2500 and making an appointment with our team at 2640 West Market Street, Suite #302.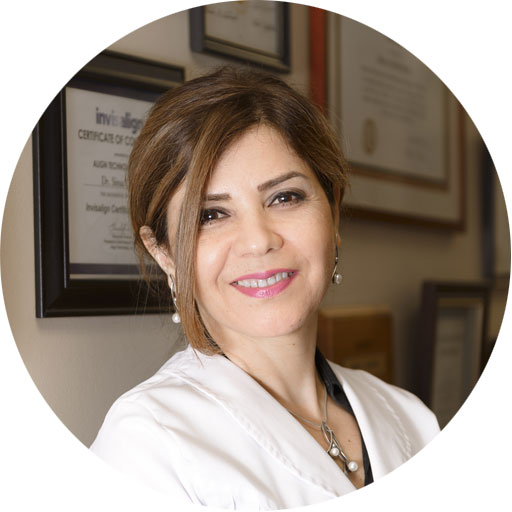 Dr. Sima F. Chegini graduated from Loyola University, School Of Dentistry in Chicago in 1993 and gained experience in complex dentistry via a General Practice Residency (GPR) in Dentistry at the University of Rochester, NY. Having worked as an associate dentist at a private practice in Boston, MA, for two years, she moved to Seattle, WA, in 1996. Here she taught dental students as a part-time faculty member at the University of WA, School of Dentistry, and dental hygienists at Lake WA Technical College in Kirkland, WA. At the same time, she completed a six-month fellowship, Dental Education in Care of the Disabled, at the University of WA, School of Dentistry. She also worked as a lead dentist at community health centers in Seattle.
Dr. Chegini established Arsmiles Family and Cosmetic Dentistry in Fairlawn, OH, in 1999, where she continues to practice. She is also a clinical instructor at Summa Hospital's GPR in Akron. She has invested heavily in continuing education and training for herself and her team and combines it with advanced technologies at her office for the best patient outcomes. Her patients appreciate her holistic approach to dentistry.