Partial Dentures
We Strive for Complete Satisfaction with Partial Dentures: Precision-Fit, Metal-Free Partials
We at Arsmiles Family & Cosmetic Dentistry in Fairlawn, Ohio, are dedicated to providing the latest, safest, most remarkable techniques, products, technologies, and services that modern dentistry offers. With our combination of advanced training, cutting-edge tools, and materials, you can rest assured that your rebuilt tooth structure or teeth will look, feel, and function great–indistinguishable from natural teeth that remain healthy.
Partial Dentures
Dr. Sima Chegini partners with individuals and families throughout the Akron area to preserve the health of their teeth. However, if teeth are "too far gone" to be "saved," she will discuss prompt options to replace them. Notably, she uses advanced diagnostics such as digital X-rays and CBCT 3-D scanning to precisely plan treatment tailored to your needs and unique characteristics. She also offers many biocompatible, highly esthetic, and durable dental materials to reconstruct tissues in a way that most "mimics" the natural appearance and structure of the teeth and gums.
For instance, metal-free materials such as ceramics and resins such as acrylic. These materials are not only appropriate for patients with concerns over adverse reactions or sensitivities to metals. But they are also generally lifelike and flexible. We can also perfectly color-match the prosthetic gums and teeth. Together, these characteristics ease patients' concerns over fake or overly-plastic-looking "false teeth."
"

~ Krystle S.
★★★★★
Kind people and easygoing atmosphere. Exactly what you want when you come to the dentist!
We take great care to ensure your new teeth blend in seamlessly with the appearance of the surrounding natural teeth and tissues. We are also exacting in collecting accurate information about your mouth, which is then used to guide the fabrication of the denture. That way, we secure the precise fit fundamental to patients' satisfaction with their new teeth. In addition to conventional partials that are highly durable and made to fit your mouth perfectly, Dr. Chegini is happy to discuss alternatives to partial dentures during a consultation at our office in Fairlawn, Ohio. These alternatives include dental bridges supported or stabilized in the mouth by "artificial tooth roots": implants. Call Arsmiles Family & Cosmetic Dentistry today at (330) 593-2500 or request an appointment online.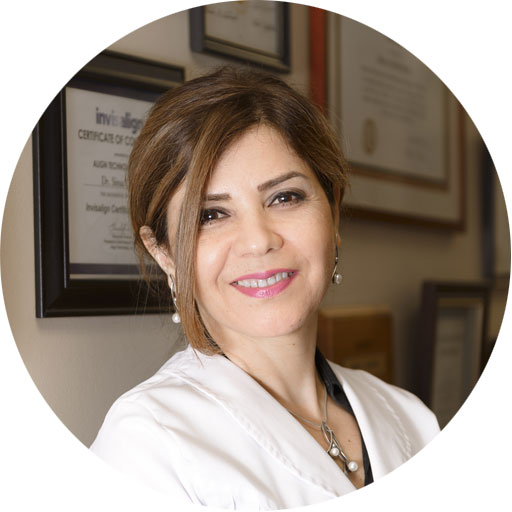 Dr. Sima F. Chegini graduated from Loyola University, School Of Dentistry in Chicago in 1993 and gained experience in complex dentistry via a General Practice Residency (GPR) in Dentistry at the University of Rochester, NY. Having worked as an associate dentist at a private practice in Boston, MA, for two years, she moved to Seattle, WA, in 1996. Here she taught dental students as a part-time faculty member at the University of WA, School of Dentistry, and dental hygienists at Lake WA Technical College in Kirkland, WA. At the same time, she completed a six-month fellowship, Dental Education in Care of the Disabled, at the University of WA, School of Dentistry. She also worked as a lead dentist at community health centers in Seattle.
Dr. Chegini established Arsmiles Family and Cosmetic Dentistry in Fairlawn, OH, in 1999, where she continues to practice. She is also a clinical instructor at Summa Hospital's GPR in Akron. She has invested heavily in continuing education and training for herself and her team and combines it with advanced technologies at her office for the best patient outcomes. Her patients appreciate her holistic approach to dentistry.