Restorative stages of dental implants
Dental implants provide patients with tooth loss with a solution that will last a lifetime, making these restorations a popular choice for many patients who visit our practice. Dr. Sima F. Chegini of Arsmiles Family & Cosmetic Dentistry in Fairlawn, Ohio, is here to provide both the placement and restoration of dental implants for new and returning patients who are missing teeth. The implant restorative stage is the last in the placement of implants and completes the process.
The dental implant restoration process
The restorative stage of dental implants is the final stage needed to complete the journey to smile restoration. The dental implant is placed previously during the surgical stage, and time is required to allow the natural process of osseointegration or bone growth. Once this happens, the implant is fused to the bone for the proper foundation. Implant restoration is the placement of a crown, bridge, or denture over the abutment of a dental implant to finish the entire process. Dental bridges may require an implant on one or both sides to support the restoration. Additionally, patients may have several implants placed along the dental arch to support a complete denture with excellent retention, ensuring optimal esthetics, fit, and function without messy denture adhesives.
"

~ Nichole B.
★★★★★
AMAZING!!!!! Every staff member I spoke with today was so kind and welcoming. The facility is SO CLEAN and comfortable! Mindy took her time cleaning my teeth and getting to know me. Dr. Chegini was so kind, knowable and I could tell she truly cares about her patients! It was a great experience and I'm glad I found them for both myself and my family.
How long is the restorative stage of implant dentistry?
Once the implant is osseointegrated and becomes one with the jawbone, placement of the custom restoration is done quickly in just one appointment utilizing our state-of-the-art CEREC same-day crown technology. The abutment will be placed over the healed implant and scanned with the Omnicam scanner. The scan will then be exported to the milling unit to fabricate the permanent crown. In less than an hour, the crown is ready to be cemented, and the patient will leave with the most cosmetic restoration that blends in seamlessly replacing the missing tooth.
Call Dr. Sima F. Chegini today
If you have dental implants placed and need restoration, our team at Arsmiles Family & Cosmetic Dentistry of Fairlawn, Ohio, can assist. Call (330) 593-2500 to request an appointment at our practice, conveniently located at 2640 W. Market Street, Suite #302.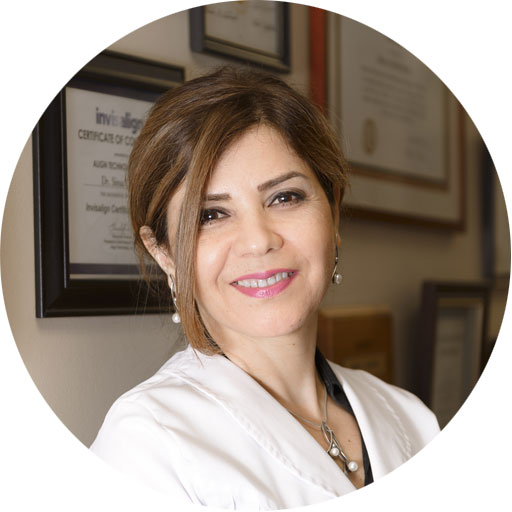 Dr. Sima F. Chegini graduated from Loyola University, School Of Dentistry in Chicago in 1993 and gained experience in complex dentistry via a General Practice Residency (GPR) in Dentistry at the University of Rochester, NY. Having worked as an associate dentist at a private practice in Boston, MA, for two years, she moved to Seattle, WA, in 1996. Here she taught dental students as a part-time faculty member at the University of WA, School of Dentistry, and dental hygienists at Lake WA Technical College in Kirkland, WA. At the same time, she completed a six-month fellowship, Dental Education in Care of the Disabled, at the University of WA, School of Dentistry. She also worked as a lead dentist at community health centers in Seattle.
Dr. Chegini established Arsmiles Family and Cosmetic Dentistry in Fairlawn, OH, in 1999, where she continues to practice. She is also a clinical instructor at Summa Hospital's GPR in Akron. She has invested heavily in continuing education and training for herself and her team and combines it with advanced technologies at her office for the best patient outcomes. Her patients appreciate her holistic approach to dentistry.