SAME DAY PORCELAIN INLAYS & ONLAYS
CEREC Same-day Porcelain Inlays & Onlays are conservative indirect restorations that do not require filing down the tooth and removing unnecessary tooth structure. They are great alternatives to large plastic or resin fillings that are not the strongest materials or best restorative choices to replace a considerable part of a missing tooth structure due to their high chances of fracture, wear & tear, marginal leakage, and failure. These porcelain inlays and onlays, in contrast to large composite or plastic fillings replacing a significant anatomical portion, are durable and wear-resistant restorations that won't break when subject to forces of biting, chewing, and functionality.
These restorations have a remarkable esthetic outcome and offer a long-term permanent solution. In addition, they are conservative and a great alternative to a crown since they are designed to only replace the already damaged or decayed tooth structure allowing maximum tooth preservation. They require scanning the tooth and fabrication of the porcelain restoration outside of the mouth using CAD/CAM technology to fabricate accurately designed cosmetic restorations and then bond it to the tooth structure with a bonding cement. This process is all started and completed in just one quick and easy appointment at the convenience of our office.
Advantages of Inlays and Onlays:
Durable & strong
Extremely cosmetic
Preserve tooth structure
Conservative in nature
Long-lasting & permanent
Quick & easy experience
Same-day service
"

~ Tanaz F.
★★★★★
Dr. Chegini has been my dentist for over 10 years and I always have received an excellent and professional service. Courtesy, skill and attention to detail are what you receive at Arsmiles FAMILY & COSMETIC DENTISTRY. Unlike other offices, the dentist doesn't push you on to unnecessary procedures. The office is lovely and the staff specially Danielle and Linda are very friendly. Overall, a great five-star experience of mine over the past decade. This dental office is the place you can get one-day crown through the latest in office CEREC technology. Very exciting to see the procedure. Reducing the cost of transportation and receiving the best care is what you will find in this office. Background Music is so calming. Arsmiles is run by ladies who are pro in their field. If you have a kid afraid of dentist, Dr. Sima Chegini is the one friendly dentist that your child would love her to fix his/her teeth. Highly recommend this top notch dental office and their team.
How do I learn about CEREC same-day technology?
Dr. Sima F. Chegini and her team at Arsmiles Family & Cosmetic Dentistry in Fairlawn, Ohio, are here to help patients achieve beautiful and healthy smiles that function at their best. If you need a porcelain inlay or onlay restoration or other restorations, call (330) 593-2500 to schedule an appointment. The office is conveniently located at 2640 W. Market Street and is open to new patients of all ages!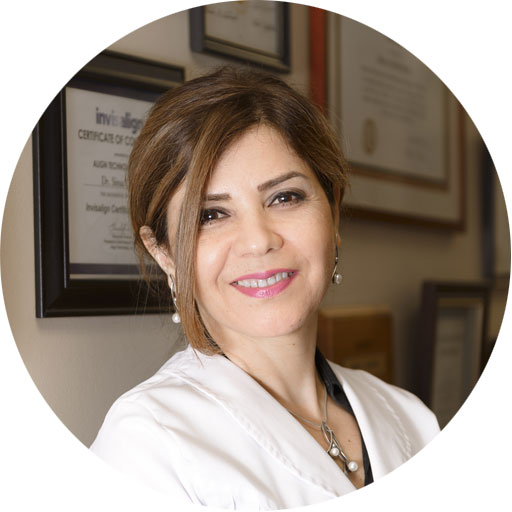 Dr. Sima F. Chegini graduated from Loyola University, School Of Dentistry in Chicago in 1993 and gained experience in complex dentistry via a General Practice Residency (GPR) in Dentistry at the University of Rochester, NY. Having worked as an associate dentist at a private practice in Boston, MA, for two years, she moved to Seattle, WA, in 1996. Here she taught dental students as a part-time faculty member at the University of WA, School of Dentistry, and dental hygienists at Lake WA Technical College in Kirkland, WA. At the same time, she completed a six-month fellowship, Dental Education in Care of the Disabled, at the University of WA, School of Dentistry. She also worked as a lead dentist at community health centers in Seattle.
Dr. Chegini established Arsmiles Family and Cosmetic Dentistry in Fairlawn, OH, in 1999, where she continues to practice. She is also a clinical instructor at Summa Hospital's GPR in Akron. She has invested heavily in continuing education and training for herself and her team and combines it with advanced technologies at her office for the best patient outcomes. Her patients appreciate her holistic approach to dentistry.