TOOTH COLOR BONDING
Cosmetic bonding, also known as dental bonding, is one of the most conservative, affordable, and non-invasive ways to improve the appearance of decayed, discolored, or chipped teeth in just one appointment. This restoration method is a popular solution because it also offers same-day repair of the teeth. Dr. Chegini and her team at Arsmiles Family & Cosmetic Dentistry believe in providing this and alternative options for patients to choose from to ensure everyone has the opportunity to achieve their dream smile!
What are the indications for cosmetic bondings?
Smile Makeover
Closing diastemas or gaps
Covering discolorations
Brightening the smile
Evening out and lengthening chipped teeth
Masking rotated and misaligned teeth
Correcting disproportionate teeth
What is a cosmetic tooth bonding?
Dr. Chegini describes tooth bonding or dental bonding as a way to restore the smile. This material is composed of a composite resin. It is applied to the teeth, shaped in place, and then hardened with a special curing light. After the material has been cured, it is filed down and polished to complete the process. All of this is done during a single appointment and allows patients to correct imperfections of the teeth quickly, easily, and affordably.
Why choose cosmetic tooth bonding?
There are a few advantages to using tooth bonding to repair a tooth. Tooth bonding is:
Affordable, allowing patients of all budgets to afford smile enhancement
Natural-looking, designed to match the appearance of the natural tooth enamel for a seamless repair
Easy to care for, requiring no extra attention outside of standard brushing and flossing of the teeth
Fast, completed in a single appointment within minutes after the tooth is prepared
An effective way of repairing chipped or cracked teeth or any other imperfections
"

~ Nicol B.
★★★★★
If you have to have a root canal please read! I came to Arsmiles because I had a tooth in the front that was discolored. After looking it over and doing x-rays, Dr. Chegini found that I needed to have a root canal done. I know I am not the only one who hears that and immediately panics and freaks out and thinks it's going to be awful and painful. Well my experience with Dr. Chegini was the exact opposite. I have extreme dental anxiety, and Dr. Chegini reassured me the entire time. I felt absolutely no pain! None! She did numb me, more so for my own benefit than any pain I would experience, and I experienced no pain what so ever. So if you need a root canal and are afraid, don't be! The team at Arsmiles will take excellent care of you and your teeth, I am talking from personal experience. I am so thankful for Dr. Chegini and the Arsmiles team, they have been great helping me overcome my hear of the dentist and make sure my teeth are as healthy as possible. So if you need a root canal call Arsmiles! I am serious! You will be in the very best of hands!
How do I learn more about cosmetic tooth bonding?
At Arsmiles Family & Cosmetic Dentistry in Fairlawn, Ohio, we believe that your smile says it all! If you are unhappy with the appearance of your smile or are interested in the cosmetic dentistry services we provide at our practice, we welcome you to call us at (330) 593-2500 today to discuss your options. We can schedule your upcoming consultation visit with our team at our practice, conveniently located at 2640 West Market Street, Suite #302. We focus on delivering high-quality patient care as our number one priority for both new and returning patients and families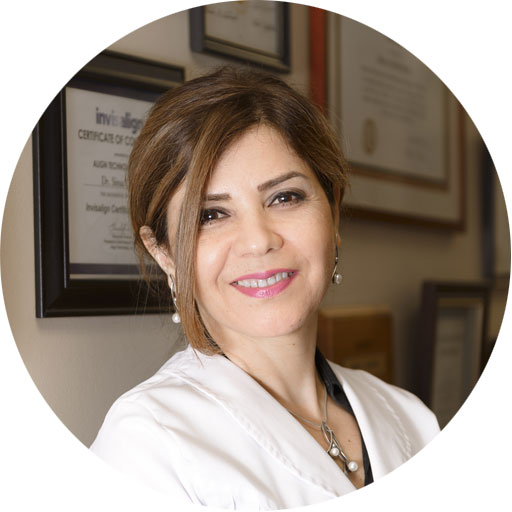 Dr. Sima F. Chegini graduated from Loyola University, School Of Dentistry in Chicago in 1993 and gained experience in complex dentistry via a General Practice Residency (GPR) in Dentistry at the University of Rochester, NY. Having worked as an associate dentist at a private practice in Boston, MA, for two years, she moved to Seattle, WA, in 1996. Here she taught dental students as a part-time faculty member at the University of WA, School of Dentistry, and dental hygienists at Lake WA Technical College in Kirkland, WA. At the same time, she completed a six-month fellowship, Dental Education in Care of the Disabled, at the University of WA, School of Dentistry. She also worked as a lead dentist at community health centers in Seattle.
Dr. Chegini established Arsmiles Family and Cosmetic Dentistry in Fairlawn, OH, in 1999, where she continues to practice. She is also a clinical instructor at Summa Hospital's GPR in Akron. She has invested heavily in continuing education and training for herself and her team and combines it with advanced technologies at her office for the best patient outcomes. Her patients appreciate her holistic approach to dentistry.