BRUXISM
What's the number one cause of dental pain and discomfort? What's the most common cause for teeth to chip, break, get loose or become sensitive that the dentist has to fix them? Best dental prevention is to control trauma! What makes us stand out from other offices?
Dr Chegini has realized from early on that most dental problems of her patients were not caused by bad brushing, poor oral hygiene home care resulting in bacterial tooth decay.
On the contrary she found out that it was "dental trauma" from an uneven bite or traumatic occlusion that is the root cause of the problem. This phenomenon (uneven bite) creates imbalance in the mouth which is interpreted by our fine proprioception built in our dentition as a big No No! Subsequently while asleep, in our subconscious the body tries to eliminate the bite's unevenness from one side to another or one tooth to the other by grinding and scraping off the spots hitting prematurely! These premature spots are called occlusal interferences and are in the way in achieving that even equilibrated bite in concert with a restful position of TMJ! These premature contacts do not allow our entire teeth to touch evenly and bilaterally. It's thought that subconscious habits such as bruxism are triggered to even out these interferences in our bite to reach that equilibrium. Bruxism with the blind efforts of our subconscious mind, are very harmful and destructive!
We now understand how the trauma of an uneven bite triggers grinding and clenching and the latter causes teeth and dental restorations to break, fail,hurt, become loose and sensitive that dentists need to fix! Bottom line we don't get to keep our teeth the way they came in due to this trauma!
The trauma could cause generalized sensitivity to hot, cold and biting that mimics dental pain and makes people think they need a root canal treatment where the origin of the pain is non-odontogenic (not tooth related) and has to do with the bite or how teeth come together (dental occlusion).
It's now clear that the actual root cause of most dental problems originate in an uneven, harsh and traumatic bite that goes hand in hand with grinding, clenching and bruxism.
These critical observations throughout a long career in clinical dentistry, training and teaching motivated Dr. Chegini dedicated her focus and practice to understanding and resolving the most common root cause of dental problems. The goal is to eliminate and manage trauma out of the picture and to create a healthy and non traumatic dental physiology that supports the heath of the dentition and its surrounding structures such as the gum and soft tissues, the jaw skeleton and the alveolar bone throughout many decades of life.
Therefore no need for fixing teeth with crowns, restorations or root canals by dentists if a knowledgeable and preventative plan is in place. In essence prevention is nothing but resolving or managing harmful dental trauma.
Dr. Chegini has been dedicating her dental career to continuous learning and understanding the knowledge of dental occlusion and treating patients with chronic TMJ problems, headaches, neck and shoulder stiffness as a result of parafunctional activity in the mouth or bruxism. Throughout her intense training and preventative approach she has become very knowledgeable in reprogramming the dental physiology from uneven and traumatic to bilaterally symmetric & equilibrated healthy conditions that eliminates any the need for unnecessary dental services!
A long list of symptomatic patients with severe TMD treated by her is the best testament to this claim.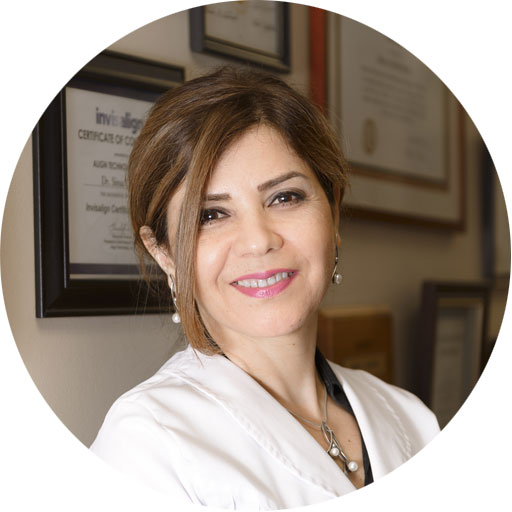 Dr. Sima F. Chegini graduated from Loyola University, School Of Dentistry in Chicago in 1993 and gained experience in complex dentistry via a General Practice Residency (GPR) in Dentistry at the University of Rochester, NY. Having worked as an associate dentist at a private practice in Boston, MA, for two years, she moved to Seattle, WA, in 1996. Here she taught dental students as a part-time faculty member at the University of WA, School of Dentistry, and dental hygienists at Lake WA Technical College in Kirkland, WA. At the same time, she completed a six-month fellowship, Dental Education in Care of the Disabled, at the University of WA, School of Dentistry. She also worked as a lead dentist at community health centers in Seattle.
Dr. Chegini established Arsmiles Family and Cosmetic Dentistry in Fairlawn, OH, in 1999, where she continues to practice. She is also a clinical instructor at Summa Hospital's GPR in Akron. She has invested heavily in continuing education and training for herself and her team and combines it with advanced technologies at her office for the best patient outcomes. Her patients appreciate her holistic approach to dentistry.