OUR HOLISTIC APPROACH
At Arsmiles Family & Cosmetic Dentistry, our holistic approach makes us unique in offering friendly, gentle family and cosmetic dental health services in the Fairlawn and Akron, Ohio, area that has its primary focus on preventing problems.
We understand that oral health affects the whole body and is a crucial part of our general well-being that enhances and contributes to our health. We try to listen to our patients to learn what their dental needs and expectations are before formulating a custom-designed treatment plan to address their dental concerns and improve and optimize their functionality, esthetics, and entire oral health that directly impacts their overall health.
In contrast to some other offices, we don't address problems in a silo, not realizing that fixing one problem will cause another. The team at Arsmiles Family & Cosmetic Dentistry studies the mouth as a whole and resolves problems at the root cause to prevent any harm and create the healthiest conditions for teeth and the entire oral cavity with successful and sustainable results.
In a sense, a holistic approach is preventative in nature. By addressing the root cause of the harm in the oral cavity and creating a healthy functionality for the entire mouth, we eliminate all the future unforeseen dental problems and dental work. Without this holistic preventative mindset, patients would be facing complex and costly dental work that is never-ending!
"

~ Nicol B.
★★★★★
I have had a fear of dentists since I was small but I have a tooth that needed looked at. I recently moved and received a nice letter and magnet for Arsmiles and decided to give it a shot. Everyone in that office was so kind and understanding. Dr. Chegini is very knowledgeable and really wanted to get to know me. She looked at my tooth but she wanted to see my whole mouth. She was very kind and made me feel comfortable knowing I was anxious. I have never felt so at ease in a dentist chair. I still have some anxiety but I know my continued visits to Arsmiles will help ease it even more. I recommend this place. They are very kind and personable.
Our mission is to implement strategies that facilitate the delivery of comprehensive oral care that positively impacts whole-body health.
The holistic mindset allows us to fully understand and emphasize on the oral systemic connection. Oral health is linked to whole-body health, and conditions such as periodontal disease can cause patients to experience other medical problems, including:
Heart disease
Increased risks of strokes
Low birth weight babies in pregnant women
Diabetes
Alzheimer's/dementia
How do I learn more about holistic dentistry?
We are pleased to provide holistic care for our new and returning patients and families and work hard to educate patients on the many ways they can care for both their smile and their body with dental solutions that focus on overall health. Our practice is located at 2640 West Market Street, Suite #302 in Fairlawn, Ohio, and is available for new and returning patients. Call (330) 593-2500 to request an appointment with Dr. Sima F. Chegini today!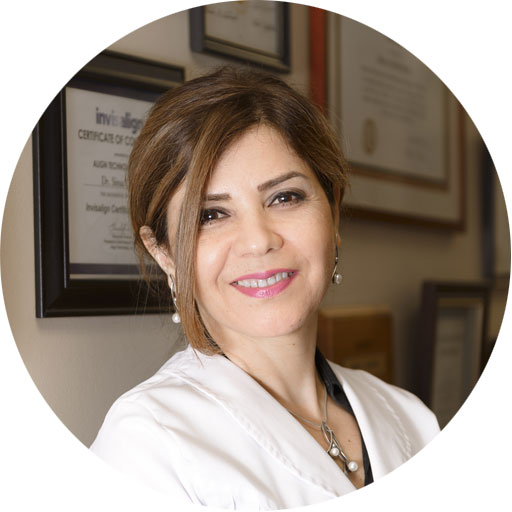 Dr. Sima F. Chegini graduated from Loyola University, School Of Dentistry in Chicago in 1993 and gained experience in complex dentistry via a General Practice Residency (GPR) in Dentistry at the University of Rochester, NY. Having worked as an associate dentist at a private practice in Boston, MA, for two years, she moved to Seattle, WA, in 1996. Here she taught dental students as a part-time faculty member at the University of WA, School of Dentistry, and dental hygienists at Lake WA Technical College in Kirkland, WA. At the same time, she completed a six-month fellowship, Dental Education in Care of the Disabled, at the University of WA, School of Dentistry. She also worked as a lead dentist at community health centers in Seattle.
Dr. Chegini established Arsmiles Family and Cosmetic Dentistry in Fairlawn, OH, in 1999, where she continues to practice. She is also a clinical instructor at Summa Hospital's GPR in Akron. She has invested heavily in continuing education and training for herself and her team and combines it with advanced technologies at her office for the best patient outcomes. Her patients appreciate her holistic approach to dentistry.