DENTAL SEALANTS
At Arsmiles Family & Cosmetic Dentistry, we utilize dental sealants for both children and adults to protect the teeth from tooth decay. If you live in the Fairlawn, Ohio, area and want to find out if dental sealants are suitable for you, we can help! Dr. Sima F. Chegini is a dentist who offers this solution for patients when they can benefit from this extra layer of protection and strength.
What are dental sealants?
Dental sealants are one way of sealing teeth to prevent cavities. This very thin flowable resin coating is used to smooth the chewing surfaces of the teeth, specifically the molars near the back of the mouth. The molars are known for having a lot of pits and crevices where food can get stuck and make it challenging to keep the teeth clean. This area is smoothed out with dental sealants, making it harder for food to stay on the surface and therefore, protect the teeth from cavities.
What are the benefits of having a preventative sealant?
Many young children may struggle to brush their teeth effectively. This puts them at a high risk of experiencing cavities and tooth demineralization by bacteria penetrating the deep pits and fissures of permanent molars that start erupting at the age of 6; therefore, they are referred to as 6-year-old molars! Placing a dental sealant over the teeth offers one other step to protecting the smile of a young kid with a tiny mouth that makes it more challenging to get back to the end of the arches. It's almost impossible to remove the plaque and food debris from those tiny crevices since they are sometimes smaller than the dimension of a toothbrush bristle. Therefore, as a preventative measure, it's the standard of dental care to place sealants on all permanent molars as soon as they erupt in the mouth and before the teeth are contaminated with bacteria and subsequent staining. It makes it a lot easier for children to remove food particles from their adult back molars in their tiny mouths. For some adults at a higher risk of developing cavities, such as those with dry mouth, dental sealants may also be used to protect the teeth.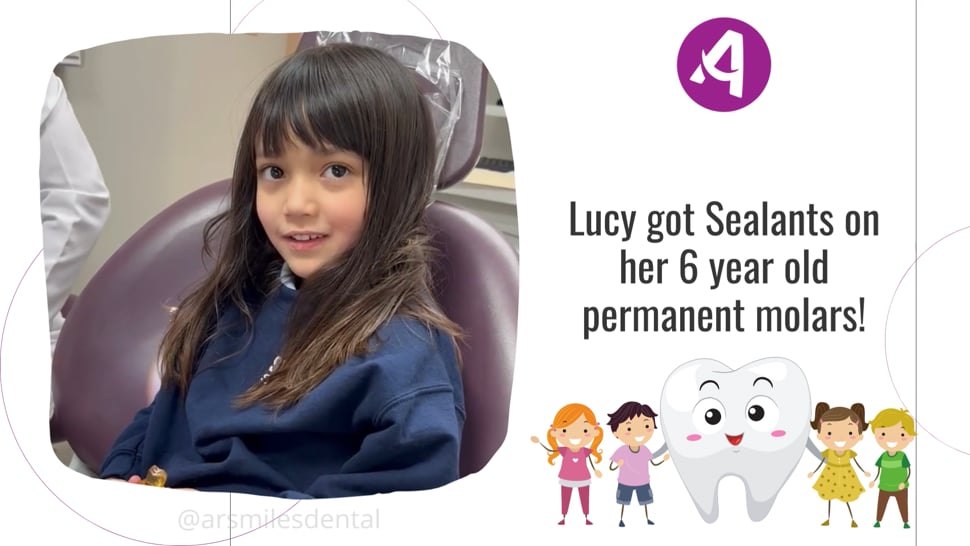 Hi, Lucy. How are you?
How are you?
Good. What did you get done today?
I got sealant for my teeth
And I heard you did a great job. Were you able to keep your mouth Open the whole time?
Yead
Yeah, and how did that go?
Good
Good,
Can you tell what is the sealant?
It is a little tooth Polish.
And do we have, A blue light or magical light that we shine on it and makes the sealants stay on the tooth
Yeah
"

~ Timothy G.
★★★★★
I've been going to Arsmiles for the past year for my cleanings, checkups, and cavity fillings. I have been very pleased with all the staff. They are thorough, conscientious, and very focused on providing a very high level of patient care. I had a good number of cavities to fill initially, but they were taken care of efficiently and great attention was given to making sure my bite was right (not an experience I had with my previous dentist). I also followed their recommendation to get a night guard. I've worn it nightly since getting it and it has really improved my TMJ issues. Thanks to everyone in the office! You're all great!
What do dental sealants feel like?
There isn't much difference in sensation or feel between a sealed tooth and one that is not. For the most part, the tooth will feel the same, just slightly smoother in areas where crevices of the molars are smoothed down.
When should sealants be placed?
As soon as permanent molars fully erupt in the mouth within the first 6 months those teeth should be sealed. Once bacteria get stuck to the pits and fissures of molars and cause staining and subsequent demineralization of enamel, then sealants cannot be placed over those suspicious areas.
When to expect eruption of permanent molars for placement of sealants?
They are two sets of permanent molars. The first is 6-year-old molars that come around age 6, and the second set is called 12-year-old molars that erupt at age 12 or around that time if the child is not delayed with their dental growth and development.
Request an appointment at Arsmiles Family & Cosmetic Dentistry today
Dr. Sima F. Chegini and her team in Fairlawn, Ohio, work with patients to help them achieve healthy smiles and maintain them for life. If you are interested in learning more about dental sealants to protect the teeth from cavities, call the practice today at (330) 593-2500. We are located at 2640 West Market Street in Suite #302 and proudly offer general, preventative, restorative, and cosmetic dentistry solutions for both children and adults.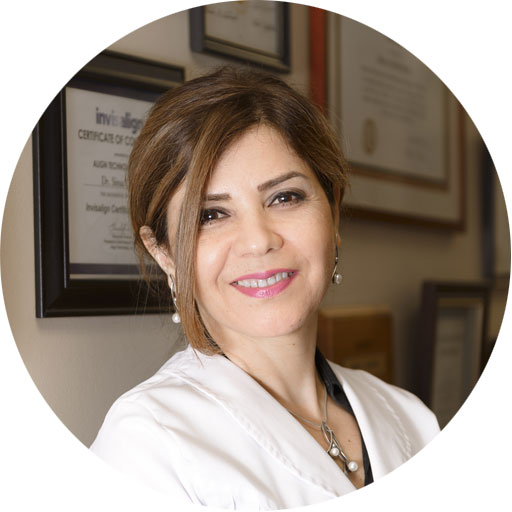 Dr. Sima F. Chegini graduated from Loyola University, School Of Dentistry in Chicago in 1993 and gained experience in complex dentistry via a General Practice Residency (GPR) in Dentistry at the University of Rochester, NY. Having worked as an associate dentist at a private practice in Boston, MA, for two years, she moved to Seattle, WA, in 1996. Here she taught dental students as a part-time faculty member at the University of WA, School of Dentistry, and dental hygienists at Lake WA Technical College in Kirkland, WA. At the same time, she completed a six-month fellowship, Dental Education in Care of the Disabled, at the University of WA, School of Dentistry. She also worked as a lead dentist at community health centers in Seattle.
Dr. Chegini established Arsmiles Family and Cosmetic Dentistry in Fairlawn, OH, in 1999, where she continues to practice. She is also a clinical instructor at Summa Hospital's GPR in Akron. She has invested heavily in continuing education and training for herself and her team and combines it with advanced technologies at her office for the best patient outcomes. Her patients appreciate her holistic approach to dentistry.