At Arsmiles Family & Cosmetic Dentistry, we use state-of-the-art CAD/CAM digital technology to help patients enhance their smiles and improve their oral health with orthodontic dentistry in Akron, Ohio.
We offer various orthodontic treatment options for children, adolescents, and adults.
Although many people use orthodontics as a cosmetic treatment to straighten teeth and improve the appearance of their smile, the therapeutic goal of orthodontic dentistry is to correct malocclusion (improper bite).
Correcting your bite protects teeth from damage and decay and improves speech and chewing ability, helping you achieve a healthy smile for life.
Conventional Braces
Traditional braces have been used in orthodontic dentistry for many decades. They are a reliable treatment for children and adults with simple or complex dental issues.
Metal or ceramic brackets are bonded to the teeth and connected with wires using small rubber bands, adjusted over time, gradually shifting teeth into their proper position.
For older teens and adults, we offer cosmetic tooth-colored ceramic brackets for a subtler look.
Invisalign/Clear Correct: Clear Aligner Treatment
Invisalign and Clear Correct orthodontic treatment feature a series of custom-made, clear, removable aligners that gradually shift teeth. They are effective, affordable treatment options that can straighten and close gaps between teeth, resolve overcrowding, and correct mild malocclusion and other imperfections.
Unlike traditional braces, these discreet, comfortable aligners are removable, which means you can take them out for eating, brushing your teeth, photographs, and on social occasions. They are an excellent choice for teens and adults.
Ask us about Invisalign, an alternative to traditional braces.
Invisalign uses a custom-made, clear, fabricated mouthpiece to help align your teeth to their correct positions. Most people won't even notice you are wearing them.
Invisalign Advantages
Straight teeth in the same or shorter time as traditional braces
Clear aligners that are subtle and discreet
Much more comfortable than braces
Removable
Custom-made just for your teeth
"

~ Caleb F.
★★★★★
Have been going here for a few years now. They do dentistry and orthodontics and a always a pleasure to be with. Are always nice and welcoming, and I have never had any trouble with them. Now have braces and visit them every 2 to 3 weeks and am currently just getting out of an appointment now. They just redid one of my lower wires, and it feels great. Please visit here if you are looking for a quality experience. A pleasure to be with, nice to talk to. Will hopefully be continuing to visit in later years to come.
We love helping people realize their beautiful smiles and are proud to be one of the top practices offering Invisalign in the Akron, Ohio, area.
Contact us today to find out if Invisalign is for you!
Retainers
Retainers help keep teeth in place after orthodontic treatment is completed. They may be fixed or removable and consist of plastic, wire, or a combination of both.
Pre-Orthodontic Care for Kids and Adolescents
Pre-orthodontic treatment in childhood and adolescence can prevent crowding, misalignment, and impaction of permanent teeth, allowing your child to avoid complicated orthodontic treatments and other dental problems down the road. Several dental appliances can be used to treat malocclusion in children and adolescents. Each child is different, and there is no set age at which children may require some sort of orthodontic or pre-orthodontic care.
What to Expect
Dr. Chegini performs a thorough examination and takes digital X-rays, study models, and intraoral pictures to get a comprehensive look at dentition, bone structure, and your overall oral health. She then develops a customized orthodontic treatment plan to meet each patient's specific needs.
Contact Us for Top-Notch Orthodontic Dentistry in Akron, Ohio
Our skilled team is well-versed in the latest developments in orthodontic dentistry. Dr. Chegini has taken extensive continuing education courses, specialized Invisalign training, and possesses certifications in orthodontics and pre-orthodontic care of children and adolescents.
Schedule an appointment online to learn more about orthodontic dentistry in Akron, Ohio, or contact us at (330) 593-2500 today!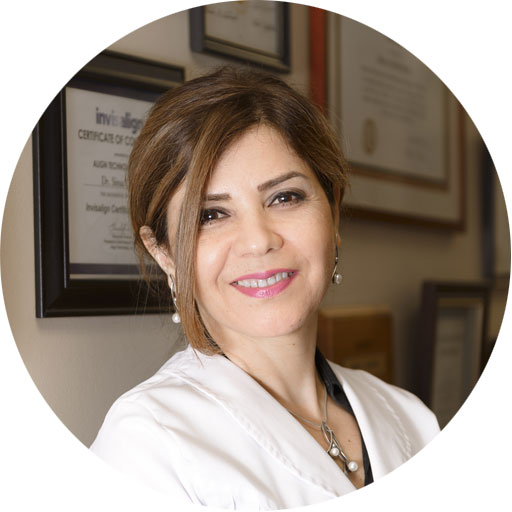 Dr. Sima F. Chegini graduated from Loyola University, School Of Dentistry in Chicago in 1993 and gained experience in complex dentistry via a General Practice Residency (GPR) in Dentistry at the University of Rochester, NY. Having worked as an associate dentist at a private practice in Boston, MA, for two years, she moved to Seattle, WA, in 1996. Here she taught dental students as a part-time faculty member at the University of WA, School of Dentistry, and dental hygienists at Lake WA Technical College in Kirkland, WA. At the same time, she completed a six-month fellowship, Dental Education in Care of the Disabled, at the University of WA, School of Dentistry. She also worked as a lead dentist at community health centers in Seattle.
Dr. Chegini established Arsmiles Family and Cosmetic Dentistry in Fairlawn, OH, in 1999, where she continues to practice. She is also a clinical instructor at Summa Hospital's GPR in Akron. She has invested heavily in continuing education and training for herself and her team and combines it with advanced technologies at her office for the best patient outcomes. Her patients appreciate her holistic approach to dentistry.