Invisalign Clear Aligners for Hassle-free, Discreet Teeth Straightening
Patients looking to straighten their teeth can consider Invisalign treatment from Arsmiles Family & Cosmetic Dentistry in Fairlawn, Ohio. This system generates straighter, beautiful smiles using no wires, no brackets, and no bands. Instead, it uses custom-made, clear trays to apply controlled pressure on your teeth for a straighter smile.
What to expect from the Invisalign treatment
Invisalign treatment is excellent for all malocclusions including crossbites, revered bites, overbites, deep bites, open bites but also is phenomenal in correcting misaligned teeth including crowding, generalized spacing or gapped teeth, rotated or crooked teeth. The treatment uses clear aligners to exert minute and precise pressure on the teeth to achieve correct alignment.
Invisalign can only be administered by a dentist like Dr. Sima Chegini. The process starts by examining your mouth. The objective is to rule out gum disease and cavities that may compromise your Invisalign treatment.
If you are eligible for Invisalign, we digitally scan your mouth to create impressions of your mouth. We then work closely using Invisalign's software to design custom-made dental aligners. A series of trays are made that align your smile in incremental stages.
While the aligners are removable, you should wear them for at least 20-22 hours daily. You should only remove your aligners when eating or cleaning your teeth. If you wear your invisible braces as directed, treatment takes less than 18 months.
"

~ Elizabeth B.
★★★★★
Such a great experience at Arsmiles! It is so nice to be able to get cosmestic dentistry with the same provider as general Denistry. Very convenient and great continuity of care. I had great results with Invisalign, and maintain my regular checkups all in one. Dr. Chegini and the entire staff are awesome!
Benefits of Invisalign treatment
The quest for straighter teeth continues for many adults who missed out on orthodontic treatment in their adolescent years. Thanks to clear dental aligners, adults and teens alike can achieve their lifelong dream of correcting their misaligned teeth.
If you want to get rid of your bad bite or crooked smile, Invisalign is the way to go. This treatment offers numerous benefits, including:
It's discreet — Invisalign uses minimally invisible aligners to straighten your teeth
Clear aligners are comfortable in your mouth, on your gums and cheeks
Invisalign requires much shorter time than conventional braces
Oral hygiene home care and cleaning your teeth won't be affected
It's suitable for patients allergic to metal
Invisible trays won't affect your speech
The trays are easy to clean and every 2 weeks you switch to a new one
If you want to discover more about how Invisalign can straighten your smile with speed and comfort, please dial (330) 593-2500 to talk to Arsmiles Family & Cosmetic Dentistry.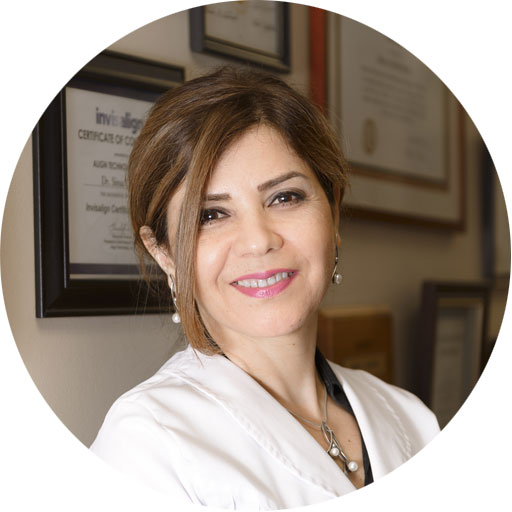 Dr. Sima F. Chegini graduated from Loyola University, School Of Dentistry in Chicago in 1993 and gained experience in complex dentistry via a General Practice Residency (GPR) in Dentistry at the University of Rochester, NY. Having worked as an associate dentist at a private practice in Boston, MA, for two years, she moved to Seattle, WA, in 1996. Here she taught dental students as a part-time faculty member at the University of WA, School of Dentistry, and dental hygienists at Lake WA Technical College in Kirkland, WA. At the same time, she completed a six-month fellowship, Dental Education in Care of the Disabled, at the University of WA, School of Dentistry. She also worked as a lead dentist at community health centers in Seattle.
Dr. Chegini established Arsmiles Family and Cosmetic Dentistry in Fairlawn, OH, in 1999, where she continues to practice. She is also a clinical instructor at Summa Hospital's GPR in Akron. She has invested heavily in continuing education and training for herself and her team and combines it with advanced technologies at her office for the best patient outcomes. Her patients appreciate her holistic approach to dentistry.