Innovative and Durable Options to Rebuild Your Attractive and Functional Smile
In the 1850s, a four-room house could be rented monthly for $5. The average laborer likely earned less than 99 cents for a day's work. While almost everything has changed in the last 15 years, let alone 150-plus years, some things remain the same, including using "traditional" dentures. As an innovative, modern dental practice, we at Arsmiles Family & Cosmetic Dentistry in Fairlawn, Ohio, have invested in training on the latest techniques and technologies to replace missing or irreparably damaged teeth.
We offer precision-fit "conventional" dentures made from quality materials and implant-supported dentures (overdentures).
Alternatives to Traditional Tooth Replacement
Dr. Sima Chegini is a lifelong and enthusiastic learner. She is constantly vetting the latest and greatest dental tools, techniques, products, and services. As such, unlike other dental practices in and around Akron, Dr. Chegini is a full-service implant provider. This means she has the training and capabilities to handle every aspect of the implant process in-house.
The use of implants for full-mouth smile reconstruction is particularly transformative. Many common complaints associated with traditional dentures have to do with fit. We avoid those complaints using cutting-edge, precision technologies like CBCT 3D imaging and alternative services such as implant-supported dentures or "overdentures."
Cone Beam Computed Tomography helps Dr. Chegini properly place each implant. We can even place a minimal number of implants to support a maximum number of replacement teeth. So, as few as four implants can be placed in the jawbone to securely, safely, properly, and sustainably support an entire upper or lower arch of replacement teeth (or a complete upper or lower denture).
"

~ Brad A.
★★★★★
I've been going to Arsmiles Family Dentistry now for all 20 years that I've lived in the Akron area and have never had any issues and have always enjoyed talking amongst the staff and with Dr. Chegini. The new renovated office is amazing. Very open, clean, and modern. Definitely a great experience now.
This approach also helps minimize the number of treatment sites, the time spent chairside, and the costs associated with overdentures. After all, the most expensive part of the process is primarily the implant itself. Since implants are made from a biocompatible material designed to integrate with surrounding natural tissues, they effectively become a part of the jawbone. Once the denture is connected to strategically-positioned implants, your prosthetic teeth and gums are not going anywhere! No embarrassing slips as loose dentures slide around when you talk, laugh, or eat. Likewise, no sores or irritation are caused by ill-fitting dentures that rub against delicate oral tissues.
Plus, overdentures help to keep the bone strong! Since replacement teeth are "rooted" in the jawbone by the implants, the bone gets stimulation from functions such as chewing, biting, and grinding down food. These functions keep the bone strong and dense.
To find out more about an array of appealing tooth replacement options at Arsmiles Family & Cosmetic Dentistry, call us at (330) 593-2500. Or, you can conveniently request an appointment, day or night, from this website. We will see you soon!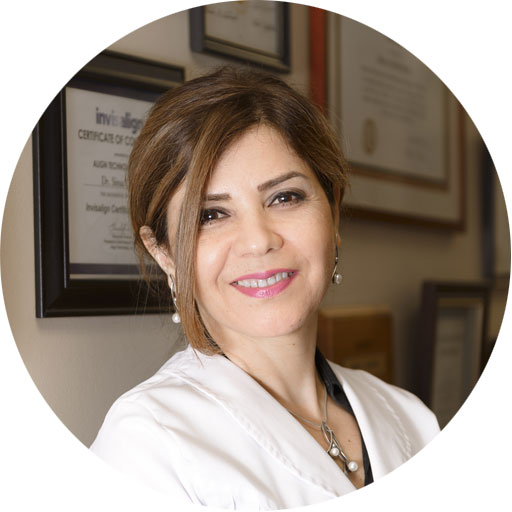 Dr. Sima F. Chegini graduated from Loyola University, School Of Dentistry in Chicago in 1993 and gained experience in complex dentistry via a General Practice Residency (GPR) in Dentistry at the University of Rochester, NY. Having worked as an associate dentist at a private practice in Boston, MA, for two years, she moved to Seattle, WA, in 1996. Here she taught dental students as a part-time faculty member at the University of WA, School of Dentistry, and dental hygienists at Lake WA Technical College in Kirkland, WA. At the same time, she completed a six-month fellowship, Dental Education in Care of the Disabled, at the University of WA, School of Dentistry. She also worked as a lead dentist at community health centers in Seattle.
Dr. Chegini established Arsmiles Family and Cosmetic Dentistry in Fairlawn, OH, in 1999, where she continues to practice. She is also a clinical instructor at Summa Hospital's GPR in Akron. She has invested heavily in continuing education and training for herself and her team and combines it with advanced technologies at her office for the best patient outcomes. Her patients appreciate her holistic approach to dentistry.