Dental Health Services in Akron, OH
At Arsmiles Family & Cosmetic Dentistry, using a holistic approach, we offer friendly, gentle family and cosmetic dental health services in Akron, OH.
We use cutting-edge technology to make your dental experience as comfortable as possible and provide top-notch holistic dentistry in a serene, professional setting.
We take a holistic approach and treat each patient as an individual with their own needs and goals for optimal health and wellness. We understand that some patients may have anxiety about visiting the dentist, we want to assure you that we are experts in calming our patients down through our skills and expertise that we utilize to make your experience as pleasant and as comfortable as possible. Our Akron family and cosmetic dentist is well-versed in all aspects of dentistry and we are happy to answer any questions or address any concerns you may have.
Our caring, experienced dental team is committed to helping you and your family achieve and maintain optimal oral health.
We offer a wide variety and complete dental care for all ages with emphasis on cosmetic dentistry. Our office is equipped with state of the art digital imaging solutions for safe, fast and accurate digital x-rays, along with Cerec technology offering same day crown, bridge and veneers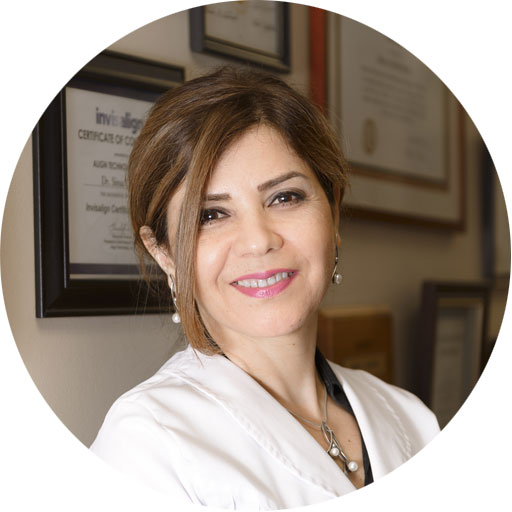 Dr. Sima F. Chegini graduated from Loyola University, School Of Dentistry in Chicago in 1993 and gained experience in complex dentistry via a General Practice Residency (GPR) in Dentistry at the University of Rochester, NY. Having worked as an associate dentist at a private practice in Boston, MA, for two years, she moved to Seattle, WA, in 1996. Here she taught dental students as a part-time faculty member at the University of WA, School of Dentistry, and dental hygienists at Lake WA Technical College in Kirkland, WA. At the same time, she completed a six-month fellowship, Dental Education in Care of the Disabled, at the University of WA, School of Dentistry. She also worked as a lead dentist at community health centers in Seattle.
Dr. Chegini established Arsmiles Family and Cosmetic Dentistry in Fairlawn, OH, in 1999, where she continues to practice. She is also a clinical instructor at Summa Hospital's GPR in Akron. She has invested heavily in continuing education and training for herself and her team and combines it with advanced technologies at her office for the best patient outcomes. Her patients appreciate her holistic approach to dentistry.