EASY, QUICK & CONVENIENT VISIT
Patients who have missing teeth and have learned about dental implants may be excited about restoring their smile in this manner. Dental implants are a popular choice for many patients considering a fixed, long-term restoration to replace one or more teeth. Dental implants require a surgical and restorative stage to complete, and Dr. Sima F. Chegini of Fairlawn, Ohio's Arsmiles Family & Cosmetic Dentistry can assist with both!
Implant surgical stage
Dental implants are a commonly used solution for missing teeth because of the many benefits they provide. These titanium posts function as natural tooth roots once placed and osseointegrated; when fully restored, they feel like natural teeth and allow patients to enjoy their favorite foods with ease. However, the implant needs to be placed into the jawbone before being restored with a bridge, crown, or denture. That requires oral surgery and precision placement. The 3-D scan obtained by the CBCT technology is an essential diagnostic tool for multiple procedures such as surgical placement of an implant in implant dentistry. It assesses the thickness and height of the jaw bone and determines if any vital structures such as a nerve or blood vessel are in the way of safe and successful placement of the titanium implant. If the bone thickness is borderline or a vital structure like a nerve or a blood vessel is in the way of placing an implant, often a "surgical guide" needs to be fabricated by a dental laboratory using the 3-D scan obtained from CBCT technology. This guide will facilitate precise and accurate placement of an implant safely and successfully in questionable areas of the mouth where the jaw bone is scarce and thin, and a tooth is missing.
Dr. Chegini is experienced in the surgical placement of dental implants and educates patients on the process so they fully understand each step needed to achieve the desired final results. Once the area is healed, patients will move to the restorative stage, where a restoration is attached to the abutment above the gumline.
"

~ Julia M
★★★★★
I reached out to Arsmiles with a few issues I was having with my teeth and bite. All staff was helpful professional and kind. Making an appt was easy and quick! Mindy, the dental hygienist was through, gentle, communicative and great! So far so good with solutions with my bite issues as well. I felt that all my concerns were listened to and addressed. I will be staying a client here and suggest the practice to anyone in search of a new dentist.
Dr. Sima F. Chegini's commitment to excellence
At Arsmiles Family & Cosmetic Dentistry of Fairlawn, Dr. Chegini aims to provide patients with a wide range of services using today's technologically-advanced solutions and techniques to improve oral surgery. That allows her to provide fast, affordable, and pain-free treatments. She works hard to ensure that patients are as comfortable as possible and have a positive experience in the dentist's chair.
Discuss your need for oral surgery with our team at Arsmiles Family & Cosmetic Dentistry
To discuss oral surgery for dental implants and other dental concerns, schedule an appointment with Dr. Sima F. Chegini and her team by calling (330) 593-2500. Her office of caring and professional providers is here to meet all of your dental health needs under one roof. The practice is open to new and returning patients and families at 2640 West Market Street, Suite #302 in Fairlawn, OH.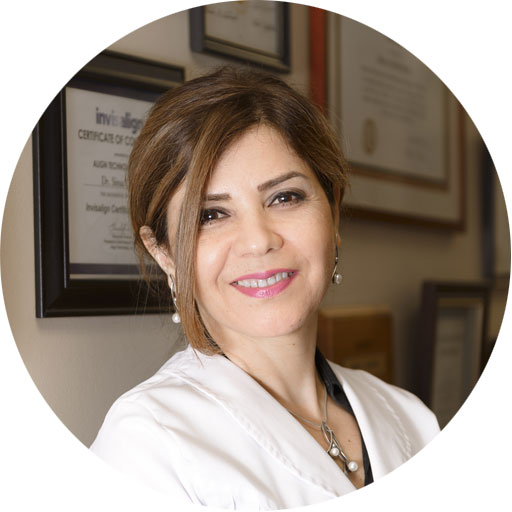 Dr. Sima F. Chegini graduated from Loyola University, School Of Dentistry in Chicago in 1993 and gained experience in complex dentistry via a General Practice Residency (GPR) in Dentistry at the University of Rochester, NY. Having worked as an associate dentist at a private practice in Boston, MA, for two years, she moved to Seattle, WA, in 1996. Here she taught dental students as a part-time faculty member at the University of WA, School of Dentistry, and dental hygienists at Lake WA Technical College in Kirkland, WA. At the same time, she completed a six-month fellowship, Dental Education in Care of the Disabled, at the University of WA, School of Dentistry. She also worked as a lead dentist at community health centers in Seattle.
Dr. Chegini established Arsmiles Family and Cosmetic Dentistry in Fairlawn, OH, in 1999, where she continues to practice. She is also a clinical instructor at Summa Hospital's GPR in Akron. She has invested heavily in continuing education and training for herself and her team and combines it with advanced technologies at her office for the best patient outcomes. Her patients appreciate her holistic approach to dentistry.