Why is interceptive orthodontics necessary?
Instead of waiting until your child is a teenager to assess their need for orthodontic work, many families desire a more proactive approach that allows for involvement at an earlier age to reduce the need for extensive, more complicated, and expensive orthodontic treatment later. At Arsmiles Family & Cosmetic Dentistry of Fairlawn, Ohio, Dr. Sima F. Chegini and her team of professionals work closely with patients to determine if they can benefit from dental work or orthodontic treatment in the earliest stages. This approach is often known as "interceptive orthodontics" and is sometimes referred to as pre-orthodontic space management.
What is interceptive orthodontics?
The main goal of interceptive orthodontics is to assist with the timely eruption of all permanent teeth in a growing individual and prevent permanent impaction of adult teeth due to:
Severe crowding
Disproportionate size of dental arches
Crossbites that need palatal expansion
Premature loss of a baby tooth that blocks eruption of a future adult tooth due to shifting of dentition
Delayed growth, eruption, and exfoliation
Combination of small mouth, bigger size teeth, crowding, and lack of primate spaces
Therefore, monitoring dental growth and development and pre-orthodontic space management is crucial in caring for pediatric patients. At Arsmiles, we are trained, focused and skilled in providing top-quality pediatric dentistry, transitioning our pediatric patients safely from primary to healthy permanent dentition.
Interceptive orthodontics is part of our holistic-preventative approach when providing dental care to kids and growing individuals. It can often prevent the need for more complicated, extensive, and expensive orthodontic treatment later on by getting the permanent teeth out quickly and addressing potential issues early.
"

~ Harshita M.
★★★★★
ARSmiles is a practice that really cares for its clients. They are are so gentle with my teeth and always work for perfection in my orthodontic treatment. Sima is a wonderful and caring medical professional
What are the benefits of interceptive orthodontics?
Interceptive orthodontics is preventative in nature and offers many benefits, both for children and their parents. Mainly it can prevent permanent impaction of an adult tooth that would later require costly restorative options to replace it or the need for more extensive and expensive orthodontic treatment later, by which families can save a great deal of trouble, time and money in the long run. In addition, interceptive orthodontics can also improve a child's overall dental health by correcting specific problems, ensuring a lifetime of good oral health and wellness and less time in orthodontic treatments.
When should my child be evaluated for interceptive orthodontic treatment?
Because your child visits the dentist every six months for cleanings and evaluations, Dr. Chegini may approach parents about possible signs that future orthodontic work may be needed. The baby teeth are often placeholders for the permanent adult teeth and can often help a dentist determine if there is sufficient space for eruption or if extractions may need to be performed.
How do I learn more about interceptive orthodontic treatments for children and teens?
If you are considering interceptive orthodontics for your child, talk to your dentist or orthodontist about the treatment options available. They can help you decide if interceptive orthodontics is suitable for your child and can provide you with a treatment plan that will meet your child's needs. Call Arsmiles Family & Cosmetic Dentistry of Fairlawn, Ohio, today at (330) 593-2500 to request an appointment at 2640 West Market Street, Suite #302.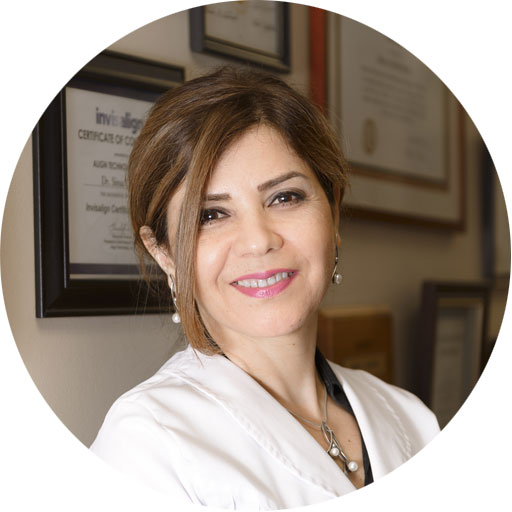 Dr. Sima F. Chegini graduated from Loyola University, School Of Dentistry in Chicago in 1993 and gained experience in complex dentistry via a General Practice Residency (GPR) in Dentistry at the University of Rochester, NY. Having worked as an associate dentist at a private practice in Boston, MA, for two years, she moved to Seattle, WA, in 1996. Here she taught dental students as a part-time faculty member at the University of WA, School of Dentistry, and dental hygienists at Lake WA Technical College in Kirkland, WA. At the same time, she completed a six-month fellowship, Dental Education in Care of the Disabled, at the University of WA, School of Dentistry. She also worked as a lead dentist at community health centers in Seattle.
Dr. Chegini established Arsmiles Family and Cosmetic Dentistry in Fairlawn, OH, in 1999, where she continues to practice. She is also a clinical instructor at Summa Hospital's GPR in Akron. She has invested heavily in continuing education and training for herself and her team and combines it with advanced technologies at her office for the best patient outcomes. Her patients appreciate her holistic approach to dentistry.