Full Mouth Dentures
We Bring Back the Natural Beauty, Function, and Health of Your Smile with Precision-Fit Complete Dentures
Arsmiles Family & Cosmetic Dentistry partners closely with individuals and their families in Fairlawn and greater Akron, Ohio. Often, we can avoid the need for restorative treatments and tooth replacement with consistent regular dental check-ups. During these check-ups, we assess the health of the teeth, gums, and oral tissues and catch problems early when conservative treatments are sufficient to resolve the condition that threatens the health, appearance, and structure of your mouth and smile.
Now, should Dr. Sima Chegini be unable to preserve teeth, no worries! She is adept at planning, designing, and placing esthetic and durable tooth replacements, including full mouth dentures.
Cutting-Edge Care
Full or complete dentures can be used to replace an entire arch of teeth in the upper and/or lower jaw. The satisfaction that patients get from their dentures depends on how well they fit. Dentures that fit precisely do not slide around. They do not cause sores or irritation. They support clear speech and comfortable, efficient eating. Additionally, we do not compromise when it comes to the use of quality materials. Dentures should look and feel like natural, healthy teeth–not like overly plastic "false teeth." They should also withstand the forces of chewing and other functions.
Dr. Chegini is privileged to acquaint you with an array of cosmetic and strong materials, such as dental ceramics and flexible resins. These materials may be color-matched to blend in with the color of the teeth and gums. Our exacting planning and advanced diagnostics furthermore account for both the unique specifications and contours of the mouth and other facial and anatomical characteristics–such as the patient's skin tone and the color of the whites of the eyes. These factors and characteristics contribute to dentures that bring out and enhance your natural beauty.
"

~ Anu R.
★★★★★
It's always a pleasure to walk into the beautifully appointed clinic (filled with gorgeous Don Drumm artwork and welcoming staff) — even when you are about to face a dental procedure. Dr. Chegini and her staff are incredibly detail-oriented and thorough and always ensure you are comfortable.
Since dentures are held in place by natural suction in the jaw, the need for a precise fit is undeniable. It also helps to eliminate or minimize the need for denture products, such as adhesives. For patients who remain concerned about the fit of prospective dentures or are dissatisfied with their existing dentures, Dr. Chegini may recommend dentures held in place by implants positioned and secured in the jawbone. Instead of depending on natural suction or dentures products for their stability, implant-retained dentures or overdentures are stabilized in the mouth by "artificial tooth roots." Once secured in the bone, the implant functions like a tooth root.
Call (330) 593-2500 to schedule a consultation at Arsmiles Family & Cosmetic Dentistry in Fairlawn, Ohio. Dr. Chegini also looks forward to partnering with you throughout the "life" of your dentures. Routine appointments help to support the quickest, healthiest adjustment to wearing dentures. They also ensure that your new teeth continue to fit and function well and look appealing.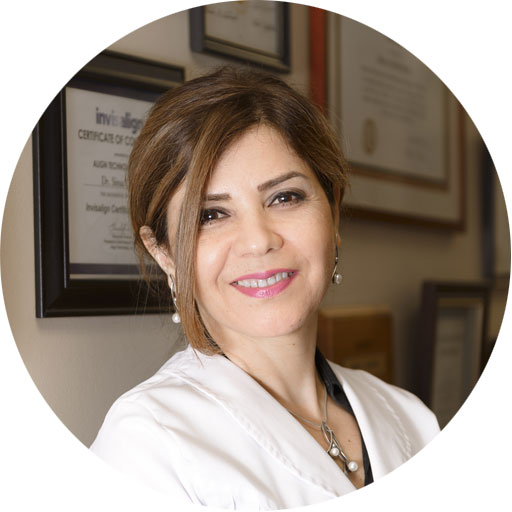 Dr. Sima F. Chegini graduated from Loyola University, School Of Dentistry in Chicago in 1993 and gained experience in complex dentistry via a General Practice Residency (GPR) in Dentistry at the University of Rochester, NY. Having worked as an associate dentist at a private practice in Boston, MA, for two years, she moved to Seattle, WA, in 1996. Here she taught dental students as a part-time faculty member at the University of WA, School of Dentistry, and dental hygienists at Lake WA Technical College in Kirkland, WA. At the same time, she completed a six-month fellowship, Dental Education in Care of the Disabled, at the University of WA, School of Dentistry. She also worked as a lead dentist at community health centers in Seattle.
Dr. Chegini established Arsmiles Family and Cosmetic Dentistry in Fairlawn, OH, in 1999, where she continues to practice. She is also a clinical instructor at Summa Hospital's GPR in Akron. She has invested heavily in continuing education and training for herself and her team and combines it with advanced technologies at her office for the best patient outcomes. Her patients appreciate her holistic approach to dentistry.