Improve your self-confidence with a smile makeover
Dr. Sima F. Chegini and her team work with patients to help them create the smile they've always dreamed of! A cosmetic smile makeover is a way of repairing chipped, stained, or crooked teeth while evening out the smile line, replacing missing teeth, and addressing other dental imperfections that may take away from an otherwise attractive smile. At Arsmiles Family & Cosmetic Dentistry of Fairlawn, Ohio, we encourage patients to take the time to ask about the smile makeover process.
What are smile makeovers?
Smile makeovers are customized dental plans tailored to a patient's cosmetic needs. First, the dentist will provide a thorough evaluation during which she will discuss with the patient any specific dental issues that are impacting their smile. Then, she will create the individualized treatment plan to fit the patient's needs to ensure they are reaching their smile goals. A combination of different procedures such as clear aligner treatment and cosmetic restorations are often used to create the most aesthetically pleasing smile. We offer affordable smile makeover options for our patients to help them get the smile they've always wanted within the budget they have available.
What treatments might be included in a smile makeover?
Because the smile makeover process is customized, each treatment plan is different. Below are just a few of the more common cosmetic procedures that might be integrated into one's smile makeover to achieve the desired results:
Cosmetic porcelain veneers
Porcelain dental crowns
Professional whitening treatments
Orthodontics (clear aligner therapy)
Dental implants (placement and restoration)
Metal-free, cosmetic dental bridges
"

~ Nicole S.
★★★★★
My 2nd time for cleaning and now looking for smile makeover. It has been a great experience and I am happy to have been recommended by my parents. Everyone is very friendly and professional.
Schedule an appointment with our team today to learn how to get a smile makeover!
At Arsmiles Family & Cosmetic Dentistry, Fairlawn, Ohio, area patients can obtain beautiful smiles they are proud to share with others. With a full smile makeover, patients can achieve the look they've always wanted with a combination of different cosmetic procedures. If you live in the community and are ready to learn more about smile makeovers and other esthetic services our team provides, we welcome you to book an appointment by calling or texting (330) 593-2500. We are open to new and returning patients at our practice, conveniently located at 2640 West Market Street, Suite #302.
REAL PATIENTS. REAL RESULTS.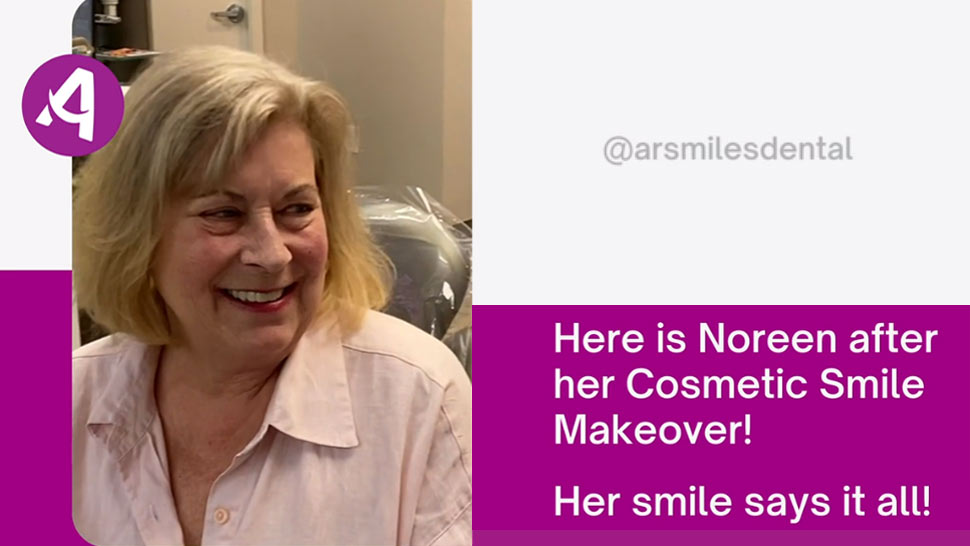 Noreen welcome back! Thank you so much. This is the end of a long journey – how do you feel?
I feel wonderful – Dr. Chegini and the whole team here, has treated me like part of the family – I came in with broken or missing teeth, very depressed.
Mhmm
And now I can smile and feel beautiful!
You look beautiful! I remember when you walked in like you said, you were anxious and now you're milling and we treat our patients here like if you were my family so I am hoping that you felt that way!
Of course I did! You were so understanding to all my needs – and that I really appreciate but I would recommend anyone who asks to go to AR Smiles, with Dr. Chegini and the whole team!
Thank you, you've been great!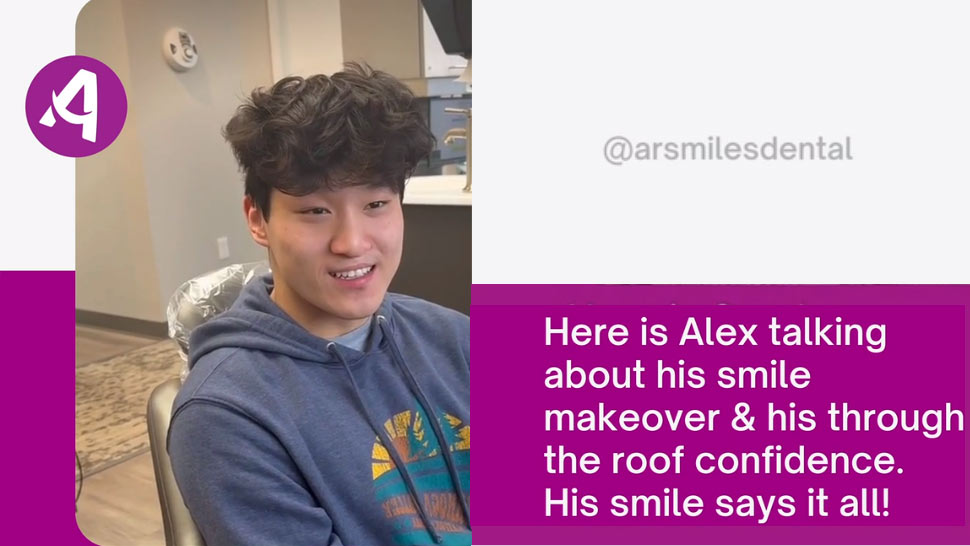 Hi Alex, so recently we have done a lot of work on your smile. How do you feel about your smile?
I really love it, my whole life I was- I didn't have this tooth because I wants born with it, and I didn't have a lot of confidence, I always not smiling at gatherings and stuff but now I have it and my confidence is through the roof and I really love it, and was worth all the time it took to get here.
Oh thank you so much for sharing that with us Alex and we are so glad that you are enjoying your new smile!
Thank you!
You're welcome.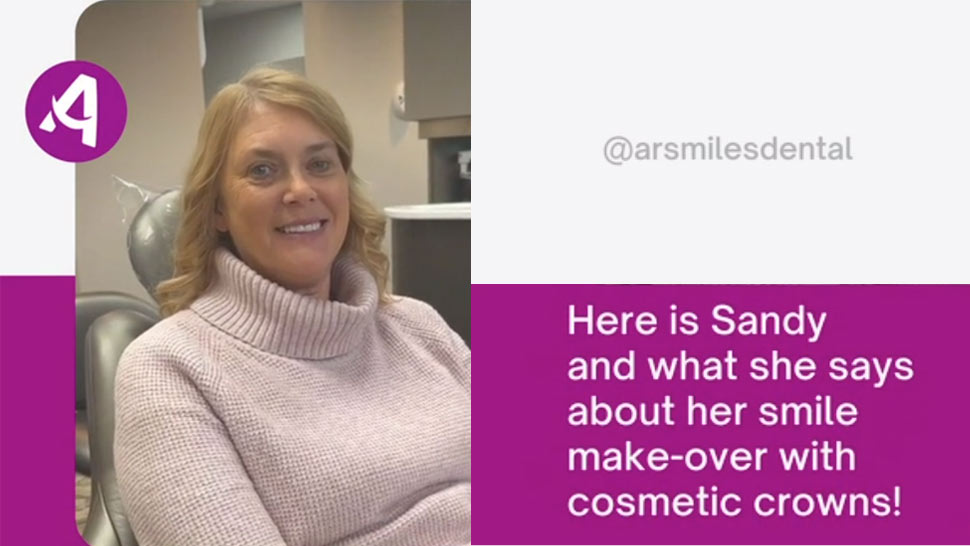 Hi Sandra, we are so happy to have you here at Ar Smiles today – so there is a little history on your teeth, we have done some crowns, you seem to be very happy with the outcome of it! Can you tell us a little bit about before and after for us?
Yeah I had, I had composite resins done for years and had to have them replaced multiple times because they would discolor and crack and be uncomfortable – and they were also very bulky they didn't fit very well so I came in to AR Smiles, and the doctor replaced the composites with these porcelain veneers, and I am very happy with them – they look great and they feel fine, and I don't have the sensitivity to the cold I had, and I feel like smiling again, because I was always hesitant to smile with the other composites!
We are so glad that we were able to fix those for you and you are so comfortable now and they look beautiful, they look very beautiful!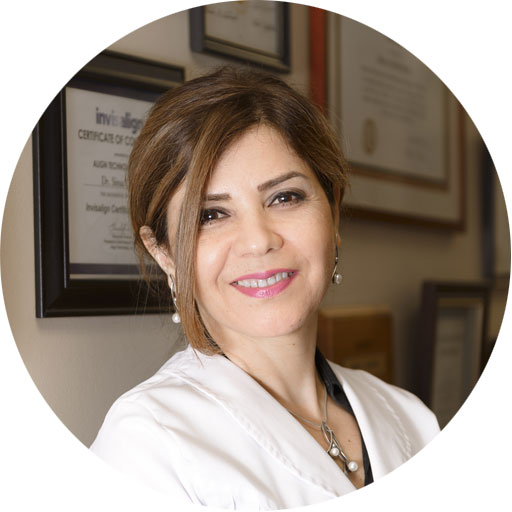 Dr. Sima F. Chegini graduated from Loyola University, School Of Dentistry in Chicago in 1993 and gained experience in complex dentistry via a General Practice Residency (GPR) in Dentistry at the University of Rochester, NY. Having worked as an associate dentist at a private practice in Boston, MA, for two years, she moved to Seattle, WA, in 1996. Here she taught dental students as a part-time faculty member at the University of WA, School of Dentistry, and dental hygienists at Lake WA Technical College in Kirkland, WA. At the same time, she completed a six-month fellowship, Dental Education in Care of the Disabled, at the University of WA, School of Dentistry. She also worked as a lead dentist at community health centers in Seattle.
Dr. Chegini established Arsmiles Family and Cosmetic Dentistry in Fairlawn, OH, in 1999, where she continues to practice. She is also a clinical instructor at Summa Hospital's GPR in Akron. She has invested heavily in continuing education and training for herself and her team and combines it with advanced technologies at her office for the best patient outcomes. Her patients appreciate her holistic approach to dentistry.