GET A SMILE OF YOUR DREAMS WITH COSMETIC DENTISTRY
A beautiful, healthy smile can boost your confidence and enhance your overall health and well-being.
At Arsmiles Family & Cosmetic Dentistry, we provide top-notch cosmetic and restorative dentistry in Akron, Ohio.
From complete smile makeovers to in-office teeth whitening, our experienced team uses state-of-the-art technology and safe, comfortable cosmetic dental procedures to improve your smile and oral health.
Akron/Fairlawn Cosmetic Dental Procedures
White composite fillings are durable, natural-looking metal-free restorations that blend seamlessly into your own tooth.
Tooth Bonding is one of the most affordable, non-invasive ways to improve the appearance of decayed, discolored, or chipped teeth.
Veneers are custom-made shells of thin, tooth-colored material bonded to the front of the teeth. They improve the appearance of your smile by covering chips, cracks, discoloration, and gaps.
Metal-Free Crowns are an esthetically pleasing way to protect your teeth and enhance your smile. They are often the most effective option for teeth that are compromised and endure heavy biting stress, and are susceptible to failing or fracturing.
We use advanced CEREC CAD/CAM technology to create durable, beautiful, same-day cosmetic and metal-free crowns and veneers fabricated at our office in less than an hour.
Dental Implants provide strong, stable tooth replacement solutions that look, feel, and function just like natural teeth. These are done in two different short visits a few months apart. The surgical placement of titanium implant precedes.
Teeth Whitening is one of our most popular cosmetic dental procedures at Arsmiles Family & Cosmetic Dentistry. Whitening is a fast, affordable cosmetic procedure that significantly brightens and whitens your smile.
"

~ Kimberly
★★★★★
I love Arsmiles! Dr. Chegini is wonderful! She is kind and honest, explains every treatment thoroughly and presents you with options. She strives for perfection in every procedure as far as cosmetics and is very methodical in her approach. She never rushes through a procedure. Her staff (Linda and Danielle) are awesome as well. They have worked together for years and it shows – the office operates like a friendly, well-oiled machine. I would recommend Arsmiles for both adults and children without hesitation.
Dr. Chegini works with you to create the smile you've always dreamed of. A smile makeover can repair chipped, stained, or crooked teeth, even out your smile line, replace missing teeth, and fix other dental imperfections.
After a thorough examination, she'll talk to you about any dental issues that need to be addressed and ask about your goals for a beautiful smile and optimal oral health. She then creates an individualized treatment plan tailored to fit your needs.
A beautiful, healthy smile not only boosts your confidence but also improves your overall health and wellness with long-lasting results. At Arsmiles, we have invested profoundly in understanding the vast knowledge of dental occlusion in lieu of giving you the smile of your dreams supported by a healthy functional occlusion.
Our team's extensive experience and training in cosmetic dentistry using CEREC and CAD/CAM technology with our focus on dental occlusion and physiology can help you achieve the optimal esthetic results for your smile based on an even, non-traumatic, and well-equilibrated bite.
Our multidisciplinary skills, approach, and clinical expertise in cosmetic dentistry, orthodontics, dental occlusion, and implants give us not only the finest overview but also the tools right here at Arsmiles to incorporate all these disciplines in treatment planning to each case in the very best and most efficient way.
Dr. Chegini creates a comprehensive treatment plan to create a smile you'll love and helps you reach your goals for advanced oral health and esthetics that last for life.
Contact Us for Quality Restorative and Cosmetic Dentistry in Akron, Ohio
To learn more about enhancing your smile with restorative and cosmetic dentistry in Akron, Ohio, and the other dental services we offer, request an appointment online or contact us at (330) 593-2500 today!
We look forward to serving all of your dental care needs.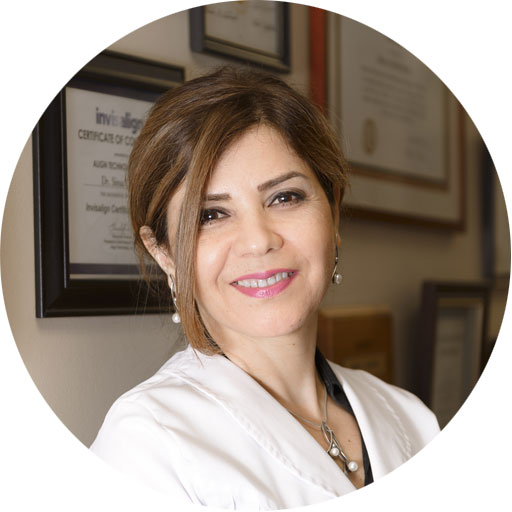 Dr. Sima F. Chegini graduated from Loyola University, School Of Dentistry in Chicago in 1993 and gained experience in complex dentistry via a General Practice Residency (GPR) in Dentistry at the University of Rochester, NY. Having worked as an associate dentist at a private practice in Boston, MA, for two years, she moved to Seattle, WA, in 1996. Here she taught dental students as a part-time faculty member at the University of WA, School of Dentistry, and dental hygienists at Lake WA Technical College in Kirkland, WA. At the same time, she completed a six-month fellowship, Dental Education in Care of the Disabled, at the University of WA, School of Dentistry. She also worked as a lead dentist at community health centers in Seattle.
Dr. Chegini established Arsmiles Family and Cosmetic Dentistry in Fairlawn, OH, in 1999, where she continues to practice. She is also a clinical instructor at Summa Hospital's GPR in Akron. She has invested heavily in continuing education and training for herself and her team and combines it with advanced technologies at her office for the best patient outcomes. Her patients appreciate her holistic approach to dentistry.