Exceptional Prosthodontics Care Preserves and Restores the Natural Health, Function, and Beauty of Your Smile
Today, dentists like Dr. Sima Chegini can replace a portion of a tooth or the entire tooth in a way that mimics the structure of natural and healthy teeth. Arsmiles Family & Cosmetic Dentistry strives to preserve the natural tooth structure as much as possible. If a tooth cannot be preserved, Dr. Chegini and our team in Fairlawn, Ohio, have invested in training on the latest dental techniques and technologies. So, we are optimally positioned to replicate the form and function of natural teeth and oral tissues. This approach supports sustained oral health and satisfied patients!
Prosthodontics refers to this process and skill and means "replacement teeth." As referenced, Dr. Chegini acknowledges that you are more than a set of teeth. Her holistic approach to partnering with patients as individuals accounts for the health of the entire oral cavity and surrounding maxillofacial structures. Additionally, she appreciates how the health of the mouth affects the whole "system." For instance, inflammation and bacteria associated with periodontitis are known risk factors for conditions ranging from heart disease to Alzheimer's. Likewise, dysfunction of the TM or jaw joints can give rise to all sorts of conditions, not limited to the mouth–from chronic migraines to backaches.
In turn, Dr. Chegini is an experienced and trusted provider of various services, treatments, and products that fall under the "prosthodontic" category and are designed to restore the form and function that promotes overall health and wellbeing. These professional capabilities include:
Quality, highly aesthetic, and conservative dental restorations (tooth-colored fillings, metal-free inlays and onlays, porcelain crowns).
Precision-fit tooth replacement (conventional bridges, partials, and full dentures).
Modern tooth replacement supported by dental implants secured in the jaw and designed to function like tooth roots to stabilize crowns, bridges, and dentures (overdentures).
Restorative periodontal and hard tissue therapy; for instance, to regenerate gum tissue or supportive bone.
Myriad, customized treatment of Temporomandibular Joint Disorders (TMJDs), affecting the function of the jaw joints.
Oral appliance therapy to improve the frequency and severity of symptoms associated with conditions ranging from bruxism (chronic teeth grinding) to sleep-disordered breathing.
Orthodontic treatment; our vast knowledge of occlusal abnormalities and effective therapies lends well to resolving misalignment and other imbalances.
"

~ kathleen R.
★★★★★
The entire staff was incredibly friendly, respectful, and very helpful. I felt welcome the moment I walked through the door. The office is beautiful. Bright and modern. I had neglected going to the dentist for a long time because I hate needles in my mouth. I still don't love going to the dentist but the staff are so caring and kind that I felt very comfortable. I need a lot of work done and I think I found a great place with knowledgeable doctors that care about my health. I also had the best cleaning I've ever had. She de-scaled my teeth with an ultrasonic thing (technical term😂) and they feel so much better. Squeaky clean. I'm not even nervous for my next visit. Thanks team Arsmiles!
Trust prosthodontic care to a caring yet cutting-edge dental office. Arsmiles Cosmetic & Family Dentistry makes the process of preserving, restoring, and sustaining your smile as comfortable, convenient, safe, and cost-effective as possible with advanced investments in technologies and tools, like CEREC (restorations made while you wait), gentle laser dentistry, and ultra-precise CBCT 3D imaging. Call (330) 593-2500 or request an appointment at our Fairlawn, Ohio office by clicking on the button on this website.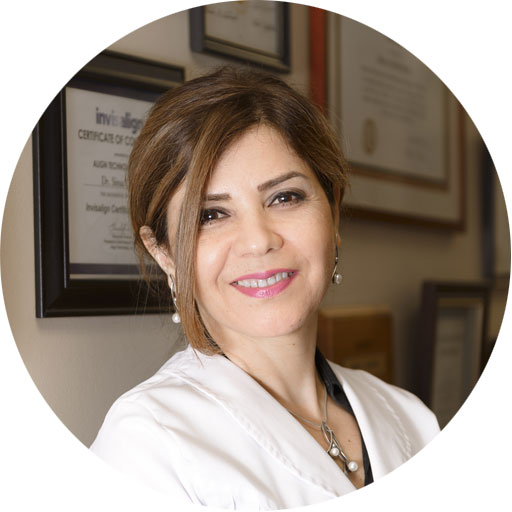 Dr. Sima F. Chegini graduated from Loyola University, School Of Dentistry in Chicago in 1993 and gained experience in complex dentistry via a General Practice Residency (GPR) in Dentistry at the University of Rochester, NY. Having worked as an associate dentist at a private practice in Boston, MA, for two years, she moved to Seattle, WA, in 1996. Here she taught dental students as a part-time faculty member at the University of WA, School of Dentistry, and dental hygienists at Lake WA Technical College in Kirkland, WA. At the same time, she completed a six-month fellowship, Dental Education in Care of the Disabled, at the University of WA, School of Dentistry. She also worked as a lead dentist at community health centers in Seattle.
Dr. Chegini established Arsmiles Family and Cosmetic Dentistry in Fairlawn, OH, in 1999, where she continues to practice. She is also a clinical instructor at Summa Hospital's GPR in Akron. She has invested heavily in continuing education and training for herself and her team and combines it with advanced technologies at her office for the best patient outcomes. Her patients appreciate her holistic approach to dentistry.