GET THE SMILE OF YOUR DREAMS WITH INVISIBLE BRACES
Fairlawn, Ohio, area patients considering orthodontic work may find that with clear aligner trays, the same results can be achieved without wearing metal braces. Dr. Sima F. Chegini can evaluate patients and help them understand how to improve their smiles with this alternative. Below are some of the frequently asked questions about this treatment solution.
What are clear aligner braces?
Clear aligner braces are a type of dental orthodontia that is nearly invisible when worn. They are made from a transparent, plastic material custom-fitted to your teeth. Clear aligner braces work by gently moving your teeth into place over time. They are an alternative to traditional metal braces and are available with Dr. Sima F. Chegini of Fairlawn, Ohio's Arsmiles Family & Cosmetic Dentistry.
How do they work?
Clear aligner braces work by gradually moving your teeth into alignment. The process begins with a consultation with Dr. Chegini. Digital scans of your teeth will be taken during the consultation to create a custom-fit aligner tray series. The trays are worn for a set amount of time each day (usually around 20-22 hours) and will need to be replaced every two weeks with the next tray in the series.
When should I get them?
Clear aligner braces are typically recommended for patients 11 years of age and older.
"

~ Gretchen R.
★★★★★
I am so happy to have found this office! I usually shy away from visiting the dentist but finally decided to find a new office and get checked out. The staff made me feel comfortable during the whole appointment and explained their process, their findings and suggestions, and also chatted with me to help me feel at ease during the appointment. I never felt pressured to make additional purchases or schedule unnecessary procedures. Unfortunately I'll be making quite a few visits in the near future due to putting off care for so long, but I'm glad to be going back to Arsmiles to get everything back on track!
clear Aligners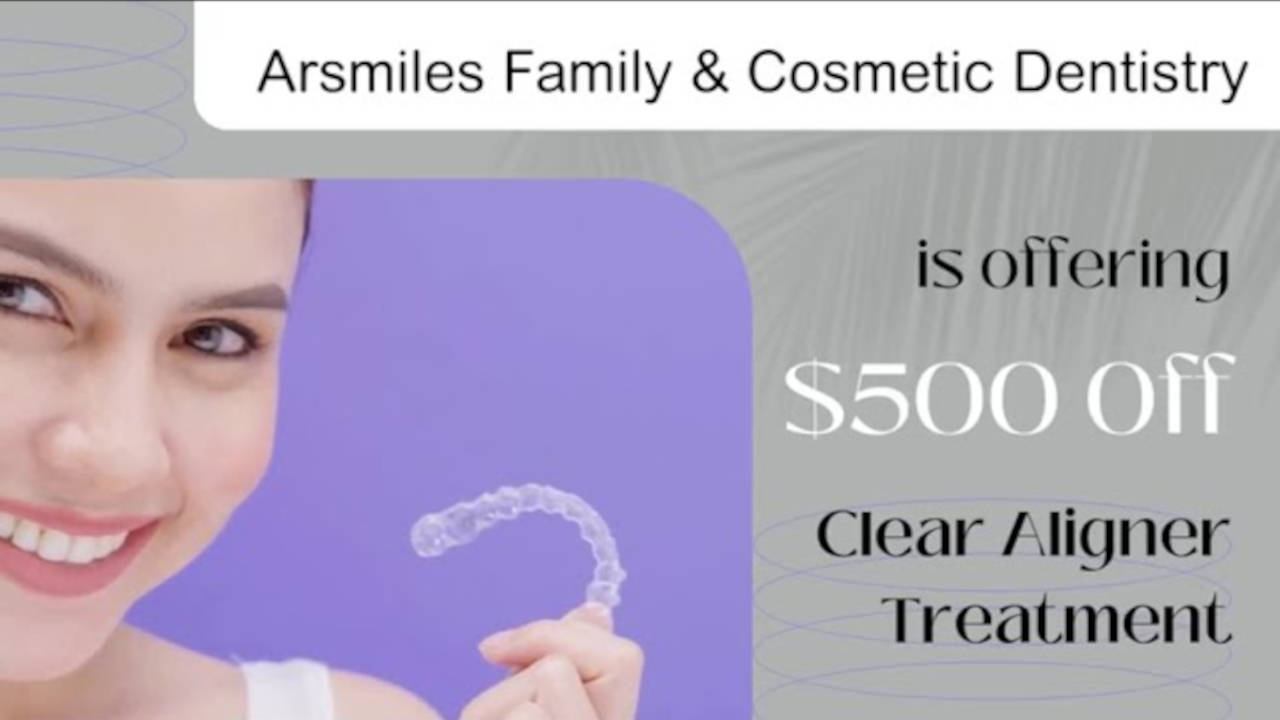 Get the straighter smile you've always desired with clear aligners. Contact Arsmiles Family & Cosmetic Dentistry to schedule an appointment.
What can they help with?
Clear aligner tray therapy can help correct dental problems such as overcrowded and rotated teeth, overbites, crossbites, and generalized gaps or spaces between teeth. They can also help to improve your overall oral health by reducing the risk of tooth decay and gum disease since trays are removed for brushing and flossing.
How long will I need to wear them?
The length of time you will need to wear clear aligner braces will depend on the severity of your dental problem. In most cases, treatment will last between 9 and 18 months.
What are the benefits?
They are nearly invisible when worn.
They are comfortable to wear.
They can be removed for eating and brushing your teeth.
They do not require any special care or cleaning.
They can be worn without interfering with speech for most patients.
How do I learn more?
Dr. Sima F. Chegini of Arsmiles Family & Cosmetic Dentistry can assist Fairlawn, Ohio, area patients in determining whether they are a good candidate for clear aligner trays as an alternative to traditional metal braces. Call (330) 593-2500 to request an appointment at 2640 West Market Street, Suite #302.
REAL PATIENTS. REAL RESULTS.
We have Ryan here today at AR Smiles, and we did a mouth restoration – so tell us a little bit about what you came in for and what we have done.
Well I'll tell you that this process started about a year ago, I had a lot of crowding in my teeth, which brought a number of other issues – including food getting stuck, I wasn't really confident in my smile, so I started with the clear aligners, and it was a very easy process – definitely worth the money. If I had to go back and do it again, I would and I would also recommend the process to anyone that would have confidence issues with their teeth, or just unhappy or uncomfortable with the wee that they are and I just finished up my composites, and got my first look at my new teeth and I have got to say that it is worth every penny, and I am very happy with it – I will be smiling big for quite some time.
That is so amazing, we are so glad to hear that! Give us a big smile for us – Aww look at how great that looks!
Smile make-over with combined Invisalign & cosmetic veneers.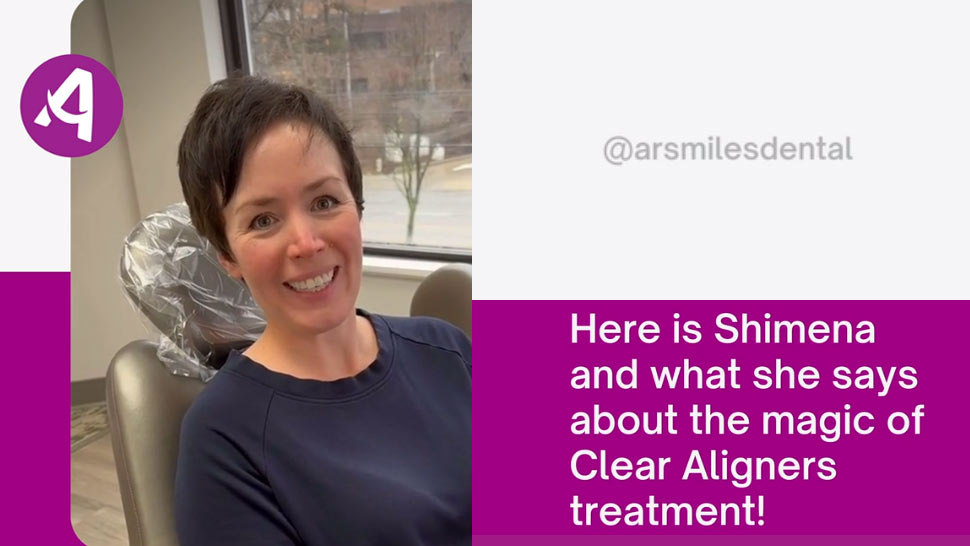 These were very easy to use! People barely noticed that I wore them – and easy to maintain dental hygiene while using them and I'm really happy with the results.
Thank you for coming to Ar smiles for your clear aligners!
Thank you!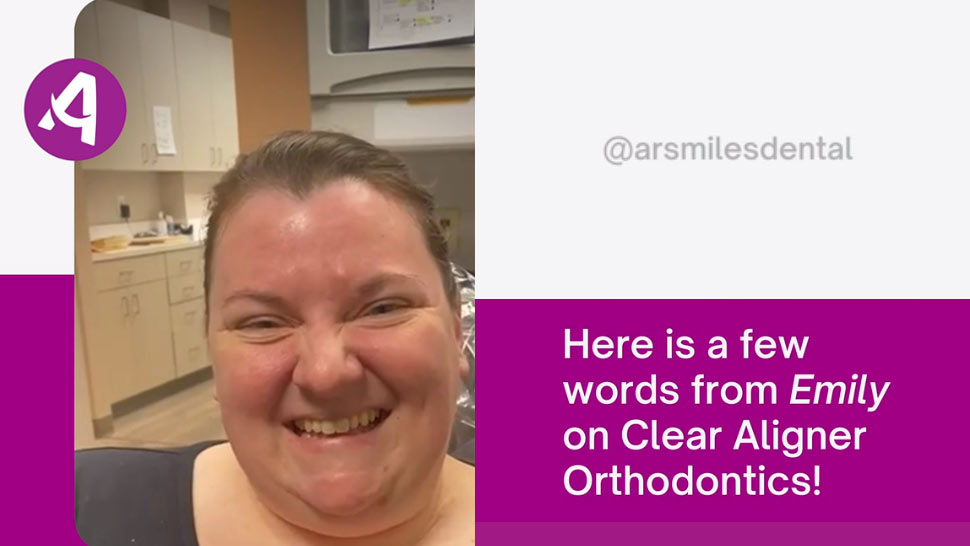 So today Emily completed her clear correct aligner, and how did you feel after completing your aligners?
So much better! My teeth are a lot straighter – it has been great!
Would you recommend this treatment to anyone? Yes absolutely, my bottom teeth especially were really overcrowded which made it hard to floss and to keep my teeth clean so this has made the process so much better.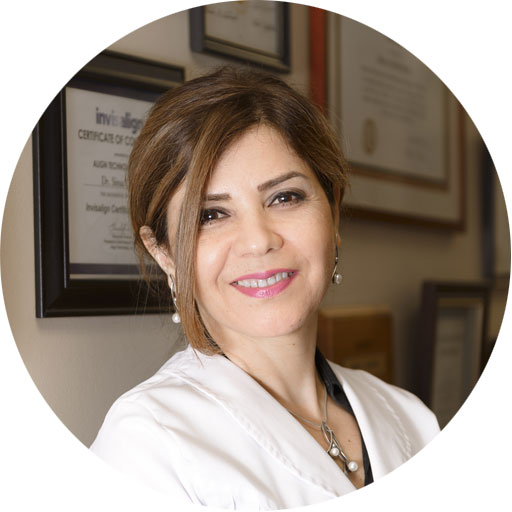 Dr. Sima F. Chegini graduated from Loyola University, School Of Dentistry in Chicago in 1993 and gained experience in complex dentistry via a General Practice Residency (GPR) in Dentistry at the University of Rochester, NY. Having worked as an associate dentist at a private practice in Boston, MA, for two years, she moved to Seattle, WA, in 1996. Here she taught dental students as a part-time faculty member at the University of WA, School of Dentistry, and dental hygienists at Lake WA Technical College in Kirkland, WA. At the same time, she completed a six-month fellowship, Dental Education in Care of the Disabled, at the University of WA, School of Dentistry. She also worked as a lead dentist at community health centers in Seattle.
Dr. Chegini established Arsmiles Family and Cosmetic Dentistry in Fairlawn, OH, in 1999, where she continues to practice. She is also a clinical instructor at Summa Hospital's GPR in Akron. She has invested heavily in continuing education and training for herself and her team and combines it with advanced technologies at her office for the best patient outcomes. Her patients appreciate her holistic approach to dentistry.